IATI
News & Events
Events Calendar
Speed-dating:Israel-Germany R&D Collaboration for BioTechnology & Pharma
Speed-dating:Israel-Germany R&D Collaboration for BioTechnology & Pharma
Feb. 18, 2014
חברת סיריון הבינ"ל מגיע בשבוע הבא לישראל לרגל סמינר מקצועי בתחום ווקטורים ויראליים (תכנית הכנס בהמשך המייל). על בסיס מקום פנוי חברי IATI וחברי ביופורום יכולים להשתתף בכנס ללא עלות
סיריון מחפשת שותף ישראלי לפרויקט מו"פ משותף אותו יגישו החברות לקרן מו"פ ישראל-גרמניה: ראו תיאור השותף הפוטנציאלי אותו סיריון מחפשת בהמשך המייל
למטרה זו והן להכרת החברה הוקצו על ידי IATI חלונות זמן ל-SPEED DATING עבור חברי IATI.


המועדים האפשריים בת"א:

17.02 יום שני בין השעות 17:30 ל-19:00
18.02 יום שלישי בין השעות 15:00 ל-18:00
20.02 יום חמישי בין השעות 11:00 ל-13:30

לתיאום אנא פנו ישירות למנהל סיריון בישראל
רן אייזיק

נייד-0528-528-582
מייל-eranwtt@usa.net
Israeli partner for R&D project
"Sirion Biotech specializes in custom design of viral vectors (LV, AV, AAV) and knockdown technologies. The company is seeking collaboration partners in the fields of preclinical stage gene therapy (AAV or LV), drug discovery/validation (cell based assays) and development of viral vector based vaccination strategies (novel AV serotypes)."
Together the companies will approach the Israel-Germany R&D fund in Q1 or Q2 2014.Once there is a final product Sirion will include it in their product's line.
Sirion web site http://www.sirion-biotech.com/home.html

For additional details please contact Eran Eizik, Sirion's Israel country manager at 0528-528-582 or eranwtt@usa.net

*Companies are welcome to register to the February 19th seminar that will take place at the David intercontinental where they could gain more knowledge about the suggested fields and set up 1x1 meetings to discuss collaboration.

Potential fields that could be relevant for collaboration

Biotechnology:
Pharmaceuticals, Biopharmaceuticals, Biogenerics
Biomarkers, Biosensors & Glycomics
Gene Therapy & Molecular Biology
Bioinformatics, Drug Discovery, Genomics & Proteomics
Tissue Engineering & Cell Therapy
Antibody, Immunotherapy & Vaccines
Industrial

Pharmaceuticals:
Drug Discovery
Generic Drug
Vaccines
Services

Other
Nanotechnology
Food and Nutrition
Telemedicine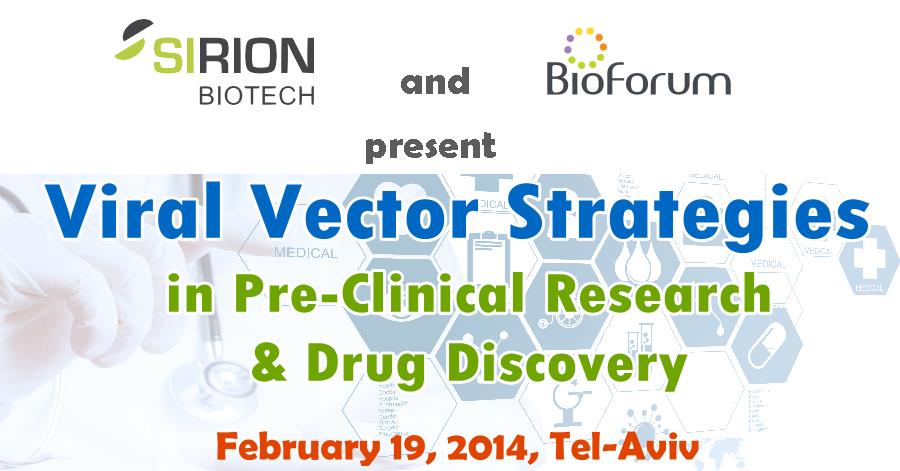 Professional management: Dr. Christian Thirion
Date: 19 February 2014
Location: David Intercontinental Hotel, Tel-Aviv
Course Language: English
Duration: 1 - Day Course
Hours: 09:00-17:00
Registration: 8:30-9:00
Price: 930 NIS + VAT
Credit Points: 1
SKU: 14725


English Registration Form Hebrew Registration Form

Viral vectors offer a plethora of possibilities for targeted gene delivery and modification. Modern techniques in genetic engineering push the boundaries of these already versatile tools, offering new chances to pre-clinical research and viral vector based therapeutics. Through strong interactions with leading scientists and strategic commercial partnering (e.g. TET Biosystems, Promega) Sirion Biotech GmbH stands at the front of innovating viral vector based techniques for cell modifications and pre-clinical development. Sirion's versatile techniques are implemented in projects with many of the major international Pharma companies in Europe, the US and Japan. Our clients benefit from a flexible, proprietary BAC-based virus construction system that offers all major forms of gene manipulation for adenoviral, lentiviral and AAV vectors. This leads to fast turnaround times, reliable vector deliveries and, through the combination with Sirion's unique RNAi validation system and specialized vector elements, to a decrease in Off-target effects in the finished cell-system.

This winter seminar is targeted at both academic and industrial professionals to cumulate the newest developments in virus vector technologies and to present the latest advances in adenoviral, lentiviral and AAV optimizations. Learn from original case studies how gene delivery can be optimized to construct advanced sensor systems, how superior gene silencing can be used for reliable gene target validation and how Sirion's virus vector platform can be utilized to help expedite your pre-clinical development – for in vitro or in vivo applications. Leading academic professionals from Europe and Israel are presenting their virus vector based work – offering new solutions for gene therapy, vaccination, drug discovery and gene validation. The seminar is planned to tighten the interaction and flow of information between academic research and industrial partners, in order to share thoughts, ideas and knowledge, and to open new horizons for the development of new tools and techniques for pre-clinical or clinical applications.

Benefits
New solutions on how gene delivery and cell modulation systems can be improved/ optimized to push beyond limitations of standard procedures:

to address Off-target effects in gene silencing
to overcome transduction limitations
to improve in vivo gene manipulation

An overview of the versatile Sirion portfolio, offering unprecedented flexibility and versatility to modulate in vitro and in vivo cell systems
New contacts within the field of cell modulation and viral vectors, academic and industrial, from Europe and Israel
Target population:
Biotechnology, Pharmaceuticals, Biogenerics
Biomarkers, Biosensors & Glycomics
Gene Therapy & Molecular Biology
Bioinformatics, Drug Discovery, Genomics & Proteomics
Tissue Engineering & Cell Therapy
Immunotherapy & Vaccines
Content (with links to abstracts):
Pre-Clinical Applications for Viral Vectors
Dr. Thirion, Dr. Christel

The AAV Capsid as Target to Optimize Vector-Host-Interactions
Hildegard Büning

Antibody Fragments Fused to Lentiviral Envelopes Enhance Gene Delivery
Ines Höfig, Stephan Barth, Michael Salomon, Verena Jagusch, Michael J Atkinson, Christian Thirion and Nataša Anastasov

Improving Adenovirus Induced Immune Responses
Peter Johannes Holst

Harnessing RNAi to Manipulate Leukocytes' Function
Dan Peer

About the speakers:
Dr. Thirion & Dr. Christel, Sirion Biotech GmbH, Munich, Germany:
Founder and Managing Director/CTO of Sirion Biotech, Dr. Thirion has spearheaded the development of Europe's most comprehensive viral vector company. Since then the company executed cell modelling projects for more than 100 clients, critically shortening pre-clinical cycles in drug and related compound discoveries. Dr. Thirion is a renowned speaker on viral vector technology and gene therapy.
As a german-american dual citizen, Dr. Christel helps establish Sirion's global outreach, managing key contacts overseas and presenting the Sirion technology system.
Together, the team will present Sirion's unique platform of custom gene expression tools using information from original projects. Included will be example projects on how to construct complex advanced sensor systems, primary cell immortalizations, adenovirus applications to boost bone reconstruction and shRNA-ON-target validation systems by combination of gene knockdown and overexpression by lentivirus.
Dr. Anastasov & Dr. Höfig, Helmholtz Center Munich, Institute of Radiation Biology, Germany
Dr. Anastasov and Dr. Höfig develop new lentivirus based strategies to stably modify cancer cell lines and to optimize analysis of cancer treatment methods. Their optimized techniques enable cell type specific gene integration and easy access to either normal or hard to transduce cell types. Such stable lentiviral modifications help tremendously in long-term cellular response analysis after radiation treatment.
Priv.-Doz. Dr. Büning, Center for Molecular Medicine Cologne (CMMC), Germany:
As head of the Laboratory for AAV Vector Development, Dr. Büning has specialized in modulation of the vector tropism to optimize efficiency and/or specificity of Adeno-associated viral (AAV) vector for Gene Therapy. In addition to cell entry targeting, the lab focuses on elucidation of AAV's infection biology including host immune responses.
Assoc. Prof. Holst, Experimental Vaccinology Laboratory, University of Copenhagen, Denmark:
As founder of the Experimental Vaccinology Laboratory , Dr. Holst has developed a fundamentally new approach to vaccination. His unique vaccination approaches, based on novel genetic adjuvants and antigen presentation technologies, coupled with novel adenovirus serotypes can help develop alternative ways of protecting against serious illnesses, even against many varieties of cancers and infectious diseases such as HIV.
Prof. Peer, Laboratory of Nanomedicine, Tel Aviv University, Israel:
Prof. Peer concentrates his research on how to manipulate cell functions in order to generate novel strategies to treat inflammatory diseases and cancers. Combining multidisciplinary approaches including immunology, cell and molecular biology, genetics, protein engineering, material sciences, nanotechnology and computational techniques, the lab developes new strategies for drug discovery and therapeutics. In addition, the lab is developing nanomedicines by designing highly selective targeting moieties and novel nanocarriers, with an ultimate goal to translate their finding into clinical settings.
Sirion Biotech GmbH:
Founded in 2006 Sirion Biotech has grown to be Europe's leading viral vector company, offering customized viral vectors (Ad, LV, AAV) and knockdown validation methods to genetically customize cell lines and even primary cells at fast turnaround times.
Next to our pre-clinical fee-for-service business model, Sirion Biotech seeks collaboration partners to develop new viral vector driven techniques and applications for gene therapy, vaccination and drug discovery studies up to the clinical stages.
With over 300 projects from industry and academia under our belt, Sirion offers a profound understanding of the possibilities and chances of viral vector applications.



20% discount for IATI members

For more information contact Shifra Hoch
Email: shifra@bioforum.co.il, Phone: +972-8-9313070, Fax: +972-8-9313071